Anđelko Igrec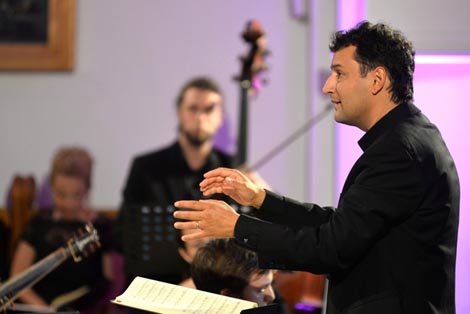 Anđelko Igrec finished his studies of composition, church music and orchestral conducting at
the University of Music in Vienna. Among others, his professors were Hans Haselböck, Erwin Ortner, Ivan Eröd, Uroš Lajovic and Johannes Wildner. From 1999 to 2017, he was Varaždin cathedral's organist, the choirmaster and director of the Varaždin Diocese's Office for Sacred Music.
As a conductor and compositor, he cooperates with Varaždin and Croatian Chamber Orchestra, the Choir and the Orchestra of Croatian Radiotelevision, Zagreb Philharmonic Orchestra, Croatian Baroque Ensemble and many other international ensembles. For a number of years, he worked as a professor at the Institute for Church Music in Zagreb and at the Organ Summer School in Šibenik, and he especially stands out with his pedagogical work with church choirmasters and organists in Varaždin Diocese.
A special place in his work takes Varaždin choir Chorus angelicus, with whom he, as a founder and choirmaster, has passed the development path from youth choir, cathedral choir, to the performing group. Now, Chorus Angelicus performs, with a great enthusiasm, the most challenging works of classical music literature like Monteverdi's Vespro, Bach's Mass in B-Minor, Händel's Dixit Dominus, Honegger's King David and Bernstein's Chichester Psalms.
Amongst awards he had received for his compositions, some should be pointed out – Josip Štolcer Slavenski Award, Jurica Murai for the organ recital at Varaždin Baroque Evenings and stimulants of Croatian Ministry of Culture – the last one is for the piece Quattro pezzi sacri written and performed in 2017 on the 20th anniversary of Varaždin Diocese.
CDs with his music (Pashalne slike, Kyrie, Psalmi, Može se živjet' od ljubavi…) won several awards including Croatian discography award Porin.