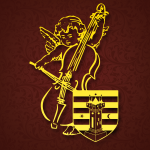 Chorus angelicus is a choir from Varaždin dedicated to performing pieces of Croatian and world musical heritage. Maestro Anđelko Igrec founded it in 1999 and now it consists of forty dedicated singers of all age. Its greatest strength, Chorus angelicus had shown on big and demanding projects – performance of complete masterpieces of world music heritage like G.F. Handel's Messiah, J. S. Bach's St John Passion, J. Haydn's The Creation and C. Monteverdi's Vespro della Beata Maria. As a result, the choir won Ivan Lukačić Award in 2016 for their performance of St John Passion by J. S. Bach, within Varaždin Baroque Evenings.
The choir has held many concerts, mostly in Varaždin and its surroundings, but also in other parts of Croatia and abroad (they held international tours in Austria, Hungary, Israel). Thanks to projects of Varaždin Baroque Evenings, the choir collaborated with a number of Croatian and international ensembles specialized for baroque music. Some of them are Le Parlement de Musique from Strasbourg, Hofkapelle from München, Musica Coeli from Graz, Pratum Integrum from Moscow, Accademia Bizantina from Ravenna, Sonatores Panoniae from Hungary, Varaždin Chamber Orchestra, Croatian Baroque Ensemble and Camerata Garestin from Croatia.
Although they have mostly baroque compositors on their repertoire, Chorus angelicus choir perform works from other periods as well – renaissance, classicism, romanticism and contemporary composers (Rutter, Ramirez, Orff, Igrec). Some of the performances are recorded on CDs (Mozart's Requiem, musical Christmas in Varaždin Cathedral, Bach's St John Passion, Igrec's Songs of Worship and Praise).
Within the project Ruksak pun kulture implemented by the Ministry of Culture, the members of the choir meet the young generations with some compositors, works of classical music and periods of their occurrence through educational visits to schools throughout Croatia.